Yet another wake in the dark morning to get to the station to get a bus to Ollantaytambo and then a snail train to Aguas Calientes by 10 am. The hotel looks out over the Urubamba river which rushes past red and frothy.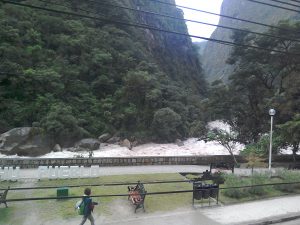 A walk along the river and over the bridge through thick trees brings me to the museum where a lot of the background to the re-discovery of  Macchu Picchu is displayed. The American, Hiram Bingham was actually looking for Vilcabamba the last stronghold of the Incas when locals told him about this site. It was completely covered in vegetation, a problem he resolved by setting fire to it, in 1911. A lot of the artefacts he turned up are on display here. It is a useful introduction to the site, particularly as the guide tomorrow is an unknown quantity. There is a botanical garden next to it full of (unflowering) orchids and suchlike. Also a tiny bird sitting on a branch for a long time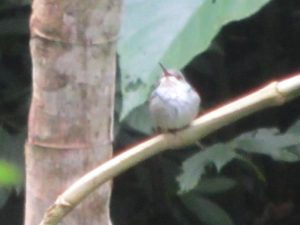 Not to mention some curious creepy-crawlies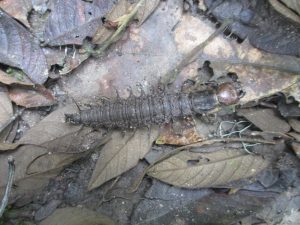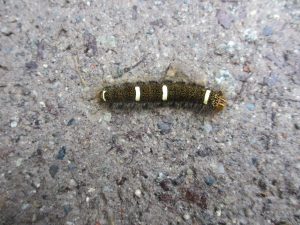 Need to get Roger onto the case for identification. The reputedly best place to eat in town turns out to be closed till 25th so another mediocre meal in a restaurant overlooking the river.. Tomorrow I have to be in the Square by 6 am to meet Harold. At least the hotel does breakfast from 5 am.
Up to the site is a thirty minute ride of 180 degree hairpins with a stream of buses coming down. There are only 2000 visitors per day allowed but they all want to go early in the morning. And Sunday is free for Qosqenos.  It's raining and the whole site has rolling white clouds floating over it. It is mysterious, elusive and frustrating.
As the tour progresses the mist lifts, the rain stops and the sky lightens. The slopes are steep but the terracing has made it all accessible for various uses: agricultural; administrative; religious and storage. Although only a thousand people lived there the construction involved tens of thousands, paid by the Inca with food. Moving some of the giant stones quarried nearby was done with log rollers, ropes and a lot of hands. Stories of stones slipping and crushing hundreds at a time like ants.
This piece of rock is of uncertain purpose – they had no written records other than kulpa, collections of knotted strings. But it is supposed to have great power and if you stand closeand hold out your hand you can make a wish. Mine came true.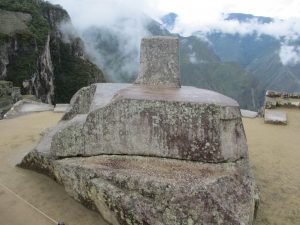 A lot of the open spaces are now covered by an African grass for neatness, but you still have a sense of the place as it must have been, people working, animals grazing, produce being stored. It is all inherently so ingenious. They fitted what they wanted into the space available and did it almost perfectly. Their religion dictated that they came from the earth and were part of it. The stonework close up is tight as can be, no mortar, and all done with stone tools, water and the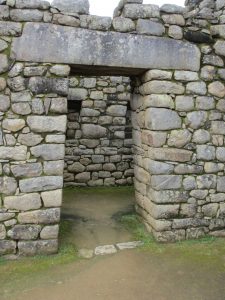 odd bronze chisel.
They were able to assess the solstice and equinox very accurately, with a Temple of the Sun that threw a shadow precisely onto a line in a rock. It is unusual in having a curved wall. Their agriculture was all keyed in to phases of the moon and sun.
There is a hill towering over the site called Huayna Picchu which I am due to climb when it opens at 10 am. It is steep,clad in trees and it has been raining.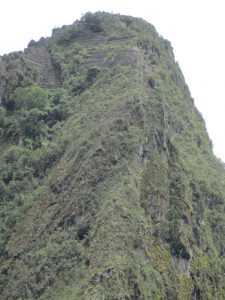 Forty five minutes of hard climbing take me about two thirds of the way up. But then there is a section almost vertical and no handrail. I could go up but coming down…? I decide to call it a day. The views back over the site are good through the trees. Later on back in town I see the young Dutch couple with whom I had started the climb. They went on but admitted they had been on all fours to get higher!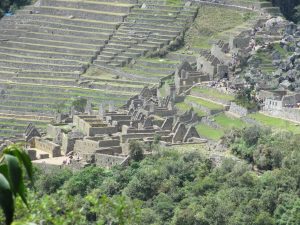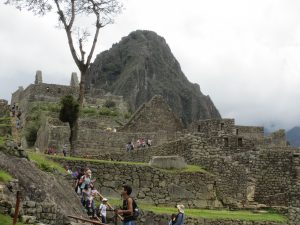 The sun is out now and the place feels different. Warm and prolific, very isolated despite all the people walking round. A royal retreat for the Inca away from the bustle of the capital, Qosqo ( it means navel of the world ). Sintra and Lisbon, Simla and Delhi, the elite will always make themselves comfortable.
There is a one way system all round the site to get out. My feet feel heavy and the sun is hot. They would have been very fit, a diet of potatoes, vegetables, quinoa and small amounts of [low cholesterol] alpaca meat. It is tasty and tender, and surprisingly unavailable in UK, given all the boxes it ticks.
I am tired by the time I reach Aguas Calientes and glad to sit outside the hotel, drink a long cold beer ( yes, no cider here!) and wait for the train to take me back down to Ollantaytambo.  The sense of place hasn't fully sunk in yet but the impression of a strong and cultured society is already in my mind.