After only half a day here already thinking of when I leave. Noisy, traffic clogged streets. Sprawling disjointed quarters.
Pavements keep you on your toes, being frequently smooth to the point of glacial. The best bits are when they are on a ramp going down to the road at corners. You learn to avoid them eventually.
The first night I ventured out to locate a restaurant run by French missionary nuns. They were from all over, Vosges, Congo, Vietnam- all francophone of course. It was a relaxing treat to talk to them without struggling for language. And the food was good simple bistro style. Three courses,  just over £10, onion soup, lamb casserole and apple tart. Elderly sister stayed chatting for ages telling me about miracles rendered by their guiding light, St Therese de Lisieux who had TB at 24. Apparently a 17 year old who suffered headaches all his life was listening to the Pope pronounce her to be a saint and was cured. It's true. And at 9pm the sisters all gather in the dining room and sing Ave Maria. She wants me to come back Friday lunch when it's very different.
The Aargh is receding a bit.
The hotel is occupied on the second floor by a very fine peacock. It only carries on in the morning.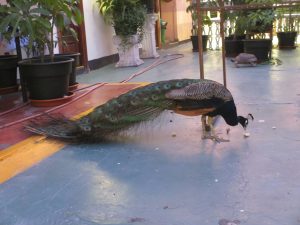 Like all the converted Republican houses I have been staying in, this one has lots of historical character and is down at heel and marred by very basic facilities. This rather sums it up.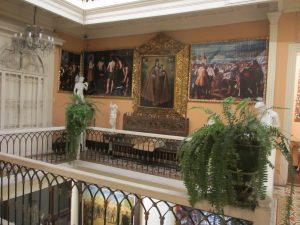 I have cracked the enigma of all the VW Beetles you see everywhere. I was starting to wonder if there was a business opportunity buying them up cheap and importing them for all the cult freaks in Europe. Turns out they were being made in Brazil until recently so no rarity value and not a dark secret source of income. I did see one or two in Ecuador that had really been pimped up but here they are mostly old and wrecked.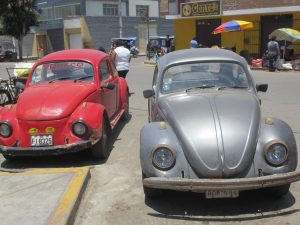 Day 2 and I need to find a bank that won't charge for taking out cash on a credit card. Swish double bendy bus to Miraflores. You need a card to buy a ticket so loiter at the gate and give bloke necessary 2.50S. How to buy bus tickets should be first piece of tourist information available. Everywhere is different. I have rarely met a miserable bus ticket seller. Perhaps because it is within your power to make people's lives better in a simple way.
First bank I go into on arrival does the trick, easy. Miraflores is one big highrise shopping mall. Lot of traffic on broad streets roaring past. After coffee and cake hop on an ordinary bus to Barranco. Large cheerful conductress tells me exactly where to get off. This is Lima by the sea,it smells different and the air is lighter. Perhaps Lima is not so bad after all.
All will be revealed