A shower pay the bill and make a beeline for Sabala. Once again no-one knows where it is. Google maps is our guiding star.
The gates are unlocked now and a girl books me in and asks if I would like breakfast. The room is spacious light and looks out onto open fields. While waiting for breakfast I was shirts and pants as balcony is in direct sun.
Papaya from the garden, savoury pancake and brown liquid that might be coffee. Her first attempt was actually tea.
Getting in to town is as tricky as I thought it would be. Walking down the bypass as lorries crunch by and everyone else is totally addicted to the horn. Five minutes brings me to the road leading up to town and a tuktuk soon has me at Ibrahim Rouza. It is a large formally elegant mausoleum from the early 16th century. It must have been exquisite once upon a time.
The tombs are grey blank stone, uninscribed and unadorned. In his lifetime an all-powerful all conquering king, all come to nought. Inside looking out there are panels over the windows of which one only remains intact. Vandalism or the ravages of time?
A visit to the coach station produces the unwelcome information that Bidar is two three hour bus journeys away. But they do go pretty regularly. The only direct is 10pm. Not much use arriving at 3am
At least the trick with the credit card has worked. Bank of Baroda is definitely a smooth operation.
On the old city walls there is an enormous bronze cannon that goes back to the early 16th century. They had no guns at this time but this monster loaded with shrapnel!
The Juma(Friday) masjid is imposing and apparently still used by several thousand people on a Friday. The mihrab is beautiful, stone carving covered in gold. The muezzin arrives, speaks good English. He is fourth generation in the job. But his son is as yet too young to follow.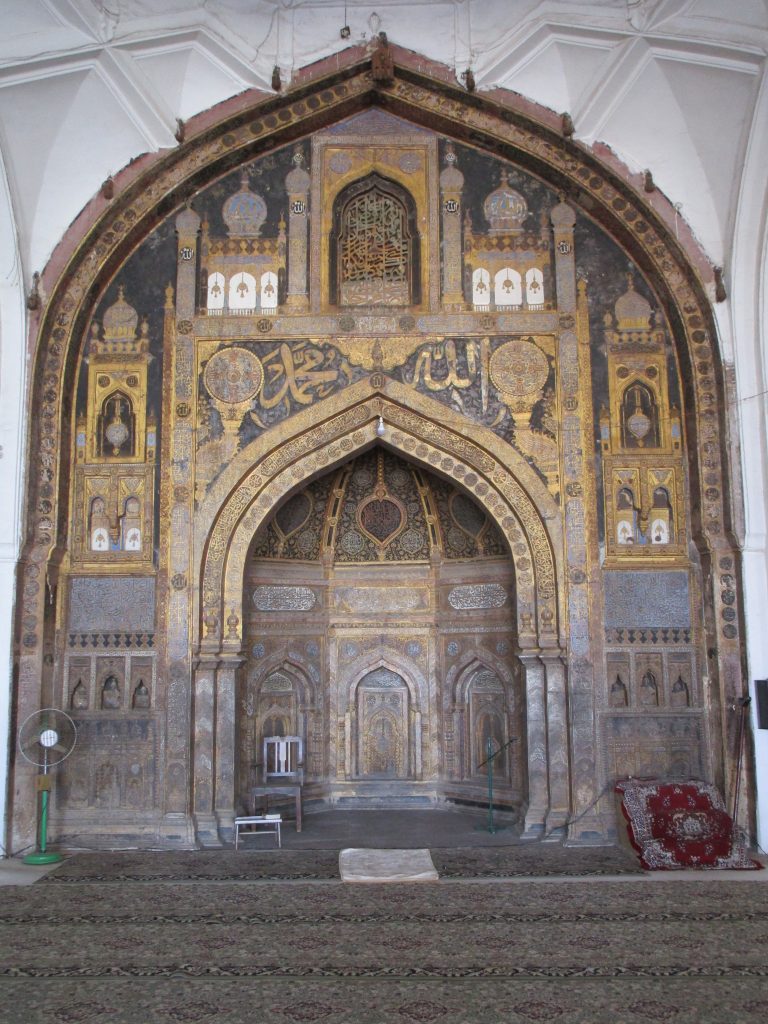 This is the first city where I have seen horse-drawn gharries used as ordinary taxis. Haven't worked out where they fit in the social scale.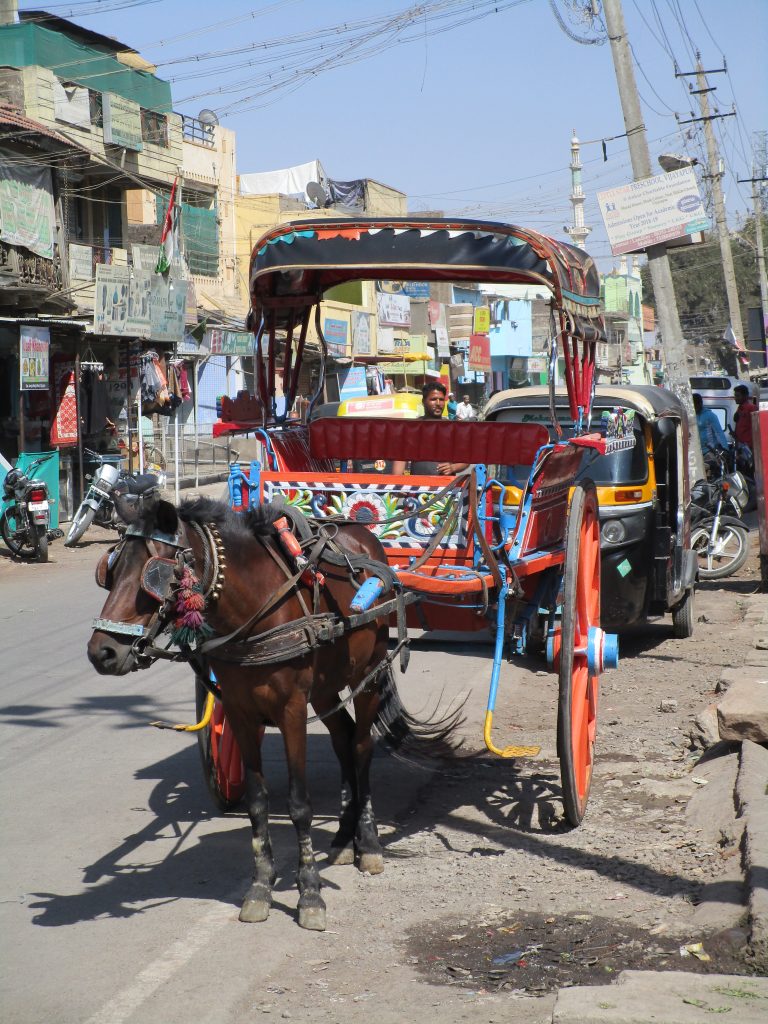 A wander around the market leaves me feeling drawn to the seating under the trees with a cold drink and catchup with a book. The third tuktuk has a vague idea where I want to go.
A really strong breeze picks up about three, bending the branches but not really cooling. It is well into the thirties. About four the tablet is in need of a charge but no WiFi in the room so slow access to Web comes to an end and old-fashioned reading to the fore. They offered to cook this evening-for me and the only other guest and the owner will be there so need to make myself presentable.
Sitting in the garden afterwards, I have neglected to use the insect and it turns out there are a lot. WiFi switches off at ten anyway. At least the Boots insect bite cream is effective!
It is not the homegrown organic feast I imagined. Chapattis, rice, some watery Dahl with spinach.She kept pressing a two egg omelette but after the white rice and one imodium I need to get back in balance! And papaya from the garden. She has fresh figs in the garden that she will have put out for breakfast. Early rise romorrow to get to Gol Gumbaz before the crowds arrive and it gets too hot.