I have had it pointed out, very rightly,  that there is a gap. I blame the culture shock caused by Lima.
Hotel Colonial is a large converted Republican house two minutes walk from the main square. Lots of style and character, bit thin on facilities. The only thing locking the french window is a little metal latch. It's clean and there's hot water- in the shower.
The main square is large and elegant, populated in the early evening by lots of families just hanging around. Sunset was eye-catching.
On Sunday is the national finals of the Marinera. This is a very formal almost ritualised dance where the man attempts to seduce the lady by the elegance of his dancing. She purports to resist. There's a great deal of waving hankies by both. Some traces of flamenco but without the vibrancy. It's rather genteel and stylised. Each couple gets five minutes to complete their routine. Quite a few of the couples reminded me of the ballroom dancers in Hi de Hi. Occasionally there would be a couple who really clicked and buzzed. The best was a generously proportioned girl, light on her feet and wearing a very day to day dress, rather than the glitz most had on. And not wearing a botox smile!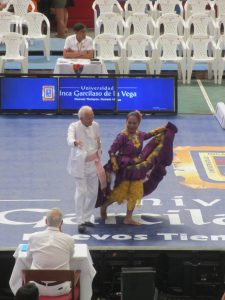 The judges were changed for each age group but the band seemed to just keep banging out the same tune time after time.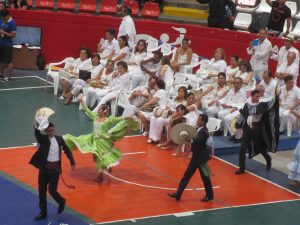 These were the judges in waiting. Four couples at a time. An intriguing spectacle but you needed to be an aficionado to stay all day.
Sunday is limited choice for eating so I ended up in a chifa, a Peruvian tradition of fusion with chinese. They are quite common. This one proved to be excellent. Chow mein with chicken, large juicy prawns and quails eggs and lots of vegetables. I managed to eat most of it! The owner was from Shanghai  but had spent ten years in Toronto. He had some pungent thoughts on Peruvian junk food habits. You certainly see a lot of overweight people under fifty. He obviously worked hard at running a good restaurant. I felt sorry when he admitted he had lost $60000 in the Madoff Ponzi scheme.
After the previous tour experiences I decided to go to Moche under my own steam in a combi- minibus communal transport one step up from a bus. The fare collectors are invariably helpful and always looking to fill the bus. The collection I wanted to see is now housed in the town hall, so easy to find but tricky to get in to. Passport number and forms! It is a remarkable collection of pottery put together over many years. He had immaculate taste, everything was top quality.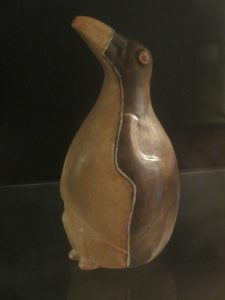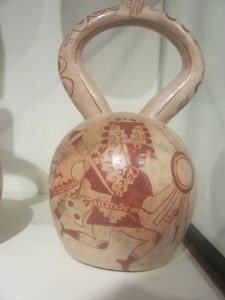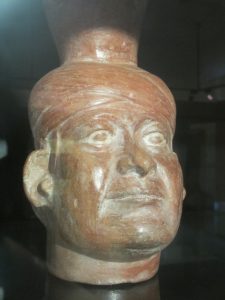 These faces were all individuals sculpted onto the bottle. They date from 200-900AD. We were barely managing a bit of impressed string for decoration then! The one with the monkey is not fit for a family website! I'd had huge expectations and came away buzzing that they had been met.
The afternoon got better. Two adobe brick pyramids, misnamed by a European archaeologist as Huaca del Sol and del Luna, were actually an administrative site and a religious one. The latter had been fully excavated with astonishing results. Each time there was a new regime they built on top, covering up the old and conserving it in the process. The wall paintings are over 1200 years old and fresh.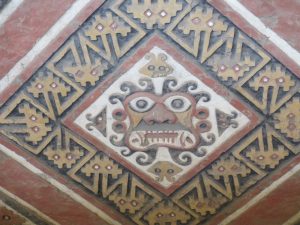 It's about three metres wide. The lowest level is about fifteen metres deep. Once again a free guided tour on my own, and the girl very knowledgeable.
While I had been waiting for her I spotted a woman moulding clay at a stall. Turned out it is her father who is the potter. Explained my interest but then the guide came by.
At the end of the tour she was waiting and led me across the open ground between the two pyramids. Progress was slow as the surface was littered with sherds! As we reached a few buildings she pointed out a big green walled garden full of fruit and veg that was hers. Her father, the potter, shuffled across from cafe opposite and showed me his workshop.
All covered in dust, junk lying around, piles of press moulds that he was using. He said they were original from Inca times. They certainly looked old. He had no reason to lie, not trying to sell me anything. Clay came from the hills nearby. The kiln was a small cube of bricks with a metal plate for a lid. He fills it up with layers of fuel and small plaques, clamps it all down and lights it. It's fired when the fire goes out- 700-800 C?  He's 76 and a bit wobbly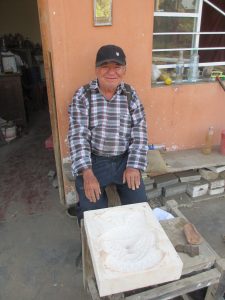 He was very pleased with a big plaster mould he'd made. Not sure how he would fire it. Although the daughter was helping with the stall, no sign that the pottery would continue after him.
Lunch the next day was in a big swish establishment south of the centre, a temple to ceviche. No tourists, serious eaters. I have never before taken a picture of my food.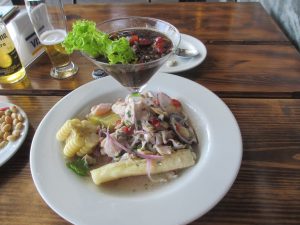 Loads, tender, varied, the top was black small clams in their liquor. Perhaps a bit too picante for me, but otherwise delicious.
There is a beach resort near the city that was tacked onto an unimpressive tour of an archaeological site. A couple of the fishermen were out in their straw boats.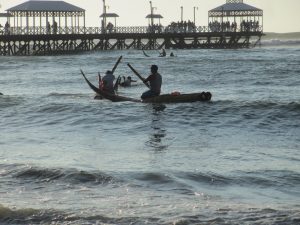 Don't have to get up so early for the Lima flight. Hooray.