Breakfast is a definite step down. Nothing cooked (Sunday?) and cold meat and cheese cheap and tasteless. Coffee is good though and small viennoiserie fine. Have been spoilt.
Need to organise activities to allow for a lot of places being noshow Mondays.
Man in Tourist Information has to have details of free guided tour extracted from him. He only interested in a 17euro job that starts from the other side of town! Wonder why!? Find it myself, two girls with big yellow umbrella outside main church. We are split into to groups of about a dozen and set off. Mariana is early twenties lively informative and amusing – good timing with the jokes which are genuinely funny. Her English is very good and little accent. At one point we stop and she disappears into a shop, returning bearing a tray of little cups with alcoholic liqueurs. I get seconds which I can feel. But absolutely no hard sell of any sort, it's just hospitality. She takes the obligatory group photo to go on some media page and I head off in the general direction of the soup and sausage shop she suggested. Say again?
Manage to find it by taking a bearing on the twin towers of the red church. It is excellent, tasty filling and quiet.
There is still the end of an antique market going on along the river though quite a few are already packing up at 2pm.almost at the end and I finally spot something interesting. Three really old bird whistle, the sort you fill with water, like in "Birds without wings) written by the captain corelli man whose name I've forgotten!
Buying them is a matter of moments. What is more difficult is a stall further down with loads of very old peasant pottery, big pancheons, oil storage jars, special dishes for making cakes with a big hole in the middle. Fun to examine but no possible way I can get them back. Apart from a lovely wine jug with a hole in the handle so you can stop the pouring.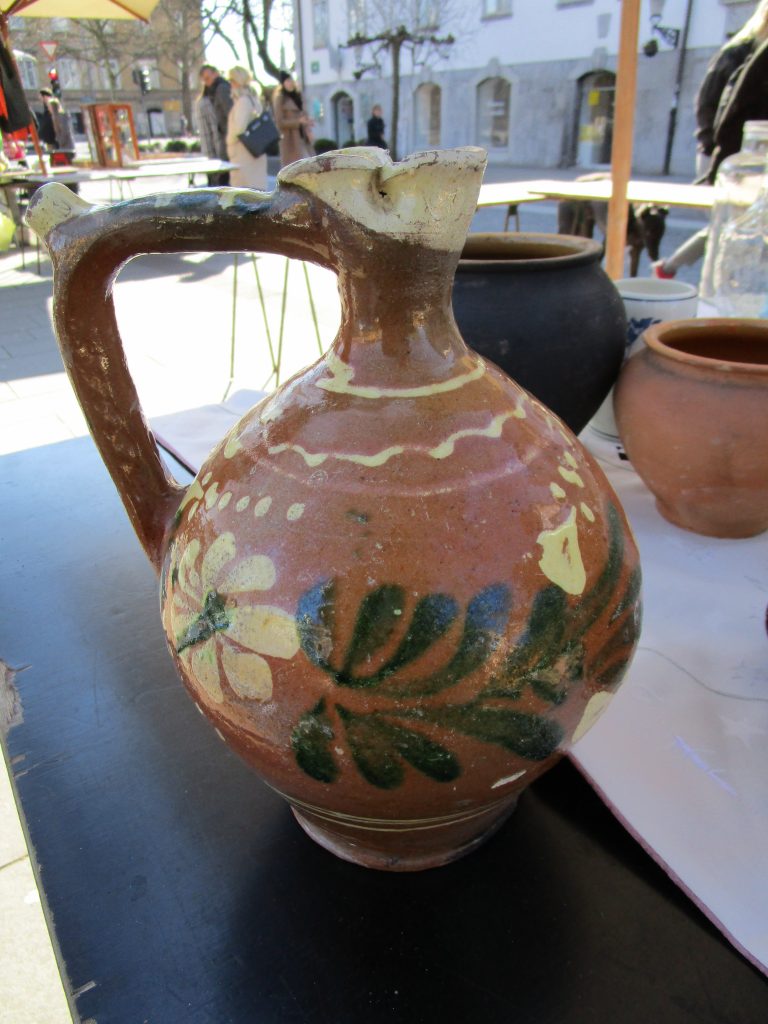 It's 8 nches diameter about ten inches high, quite light and the same price as the three little birds. I stand and look at it for maybe ten minutes trying to decide whether or not to buy it. The man thinks I am price sensitive and it comes down to a ridiculous level.
Do you think I bought it? Answers on a postcard
The afternoon spent in the national art gallery is well spent apart from my not realising it is the only one open on a Monday. Not sure how I missed that.
Late afternoon and I head up to the 12th floor of the Neboticnik which has a bar and terrace. View is great and sunshine makes outside tolerable. Sun is almost behind the hills but a full moon balances it. You are on a level with the Castle on the hill above the town. Mariana had said it was better than the Castle turret.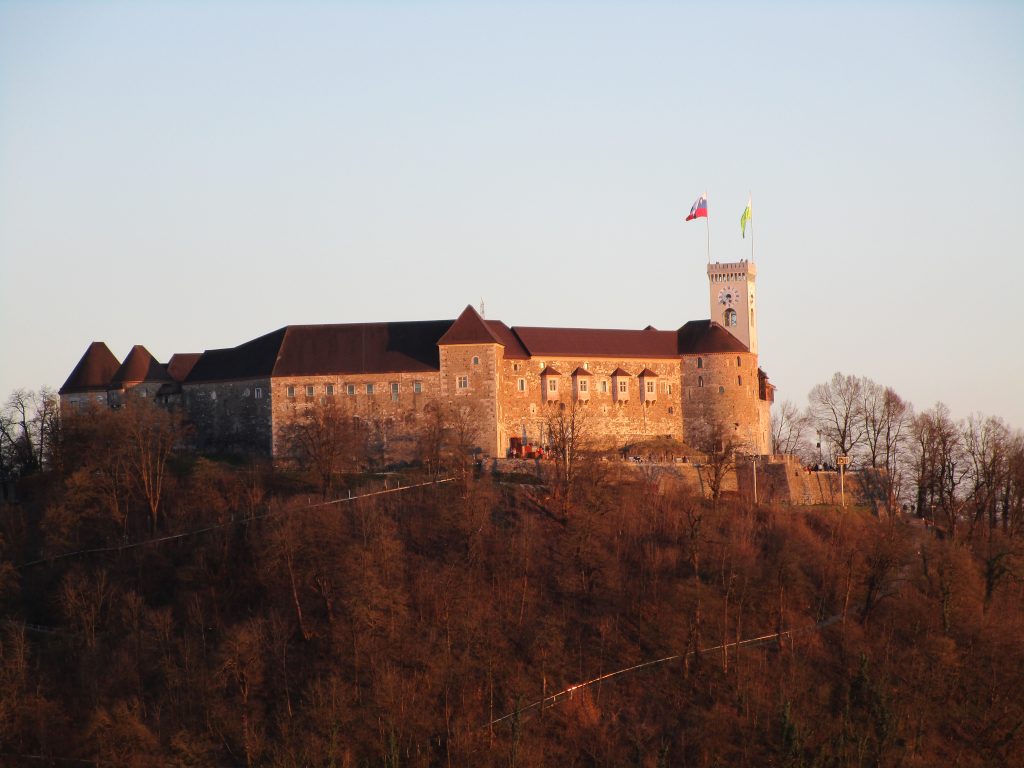 The crowds of chattering young things disappear gradually and I am left staring at a bright moon climbing towards the castle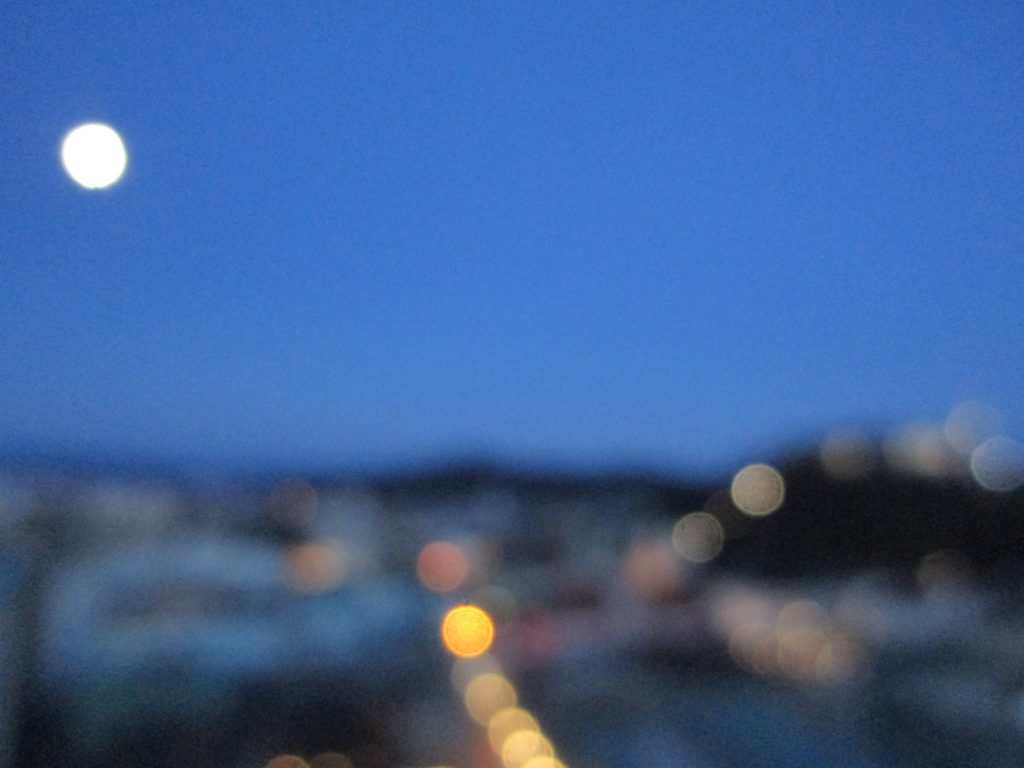 It's an impressionist moon!
Supper in a proper restaurant is OK but the waiter is a bit gung-ho and choosing sausage albeit authentic not a good choice. Place is virtually empty, I suppose being Sunday evening. Haven't taken any food photos yet. Not sure artistic presentation is very Balkan. Maybe in Sarajevo.