Breakfast brings a sharp reality check after last night. It is really bad, even by Indian standards. Unripe fruit. Marginally stale bread for toasting in an antique machine where only some of the slots work! Brown liquid masquerading as coffee. No eggs because " pure veg" – though you can have butter? Except I'm pretty certain it's margarine. Veg curry and some sad soggy pancakes.
Chowmahalla Palace offers some prospect of interest, basically 19th century bling on a site started in 1790s.
The first salon is a reception room that would do the Iranians proud. Cut glass chandeliers, mirrors everywhere and a comfy divan.
There are rooms of pottery from China and Europe and quite a bit from Staffordshire. No Chelsea or Worcester, just solid blue on white Stoke. And what looks like some large special pieces of Minton polychrome majolica. Bottle out of picking up a large jardiniere.
One room has a fine collection of manuscripts including some miniature qurans. You look at them and marvel. A brush with two hairs?
Lots of rusty armour on display. They had small hands judging by the hilts. And the shields barely 15″ diameter. Speed and skill. Curious spears that would be good to fish with. And the odd French crossbow.
Not far away is the Nizam's museum. This is devoted mainly to all the gifts, mostly silver, that he received for his 25th jubilee in 1937. What do you give to one of the richest men in the World? Who wrote the thank you letters? There is some correspondence between him and various British diplomats that reveal his elite education in England.
There's a good section on the city itself that is better informed and well written. As I'm leaving it I appreciate why. Man of sixty, good English asks me what I think. When I compliment the good labelling and language he is delighted as he is responsible for it. We talk for some time about the state of the city, politics currently in play and formation of Telangana State instead of Andhra Pradesh. . This is a murky tale of personal ego and power on the part of one individual who had it set up so he could be the boss.
Char Minar is a small trundle down the road. Another Muslim monument, this time to celebrate ( the end of) the Plague in 1691. Unfortunately two of the elegant towers are covered in scaffolding.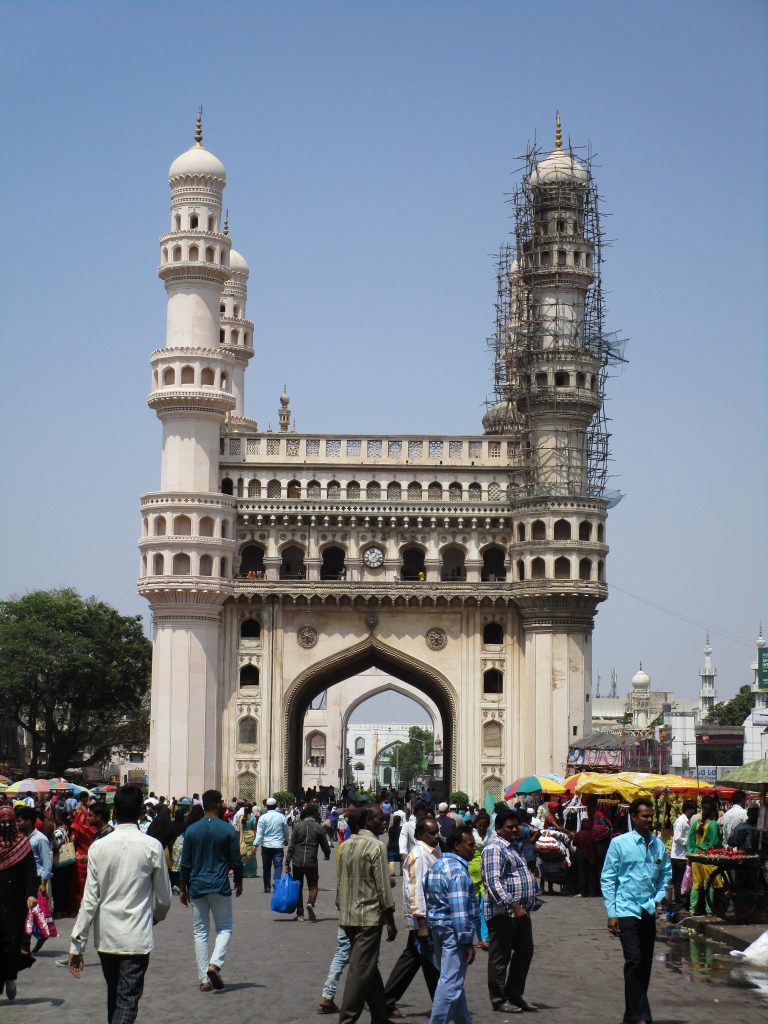 It's been pedestrianised as far as anything here is and is a milling whirl of stalls and street vendors.
Back at the hotel, comes the reality of the WiFi. Although the signal is fairly good, speed is not and it constantly drops out.
I've come back to watch 5th ODI India/ Australia having been told in the morning it's on Ch 403. Its not, this is not available I find it on a free chanel, 419, but it won't connect. The IT bloke comes over fiddles about and announces they have been having a technical hitch recently. As it turns out eventually their hitech skills are on a par with India's cricketing.
Someone has said Bawarchi is better than Shadab for biriani these days so tuktuk despatched. When we pull up at Karachi Bakery it is clear he doesn't speak English after all. Drives aimlessly for a bit then asks someone. We arrive somewhat later. His request for extra fee is politely declined.
Mutton biriani is rather dry and the meat very spicy. A lot of rice and not much else. Think fondly of delicious plovs I had in Tashkent. Glad I ordered a sweet corn soup as well. Wherever I go to eat I am the only white face. Is the food generally bad or am I being paranoid?
I strained lefthand rib muscles coming with backpack on the train which, combined with the hacking cough, makes for a painful combination.