All things pass, even fourteen hour coach journeys. An hour and a half at the border at 1.30am is disjointed and vaguely surreal. At least we didn't have to unload our bags unlike some poor sods. The young German got off early heading for the beach in Mancora.
New hotel is quite swish, lift to 5th floor, air/con, fridge. Casino in the basement looks a bit jaded and the bouncers very bored.
Anyway an immediate shower is very welcome as it is now hot and dry land. The landscape along the coast road had been arid and the mountains bare of any growth. And sections of the PanAmerican Highway were rubble and dust. So now it's over 30 C and all blue sky.
Chiclayo is hard and noisy, traffic tooting and pushing through the narrow cobbled streets. Most are one-way which makes crossing easy. Booked a trip that goes to three of the main sites. I can get a combi to the other. There are small beach villages not far by combi so will take a book and do that tomorrow. There is an enormous long pier. Quite a few families spread out near the water. The only signs of fishing are the long thin reed boats similar to those on Lake Titicaca.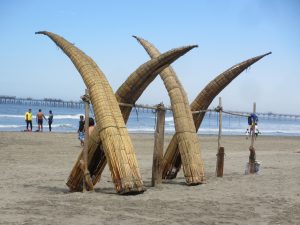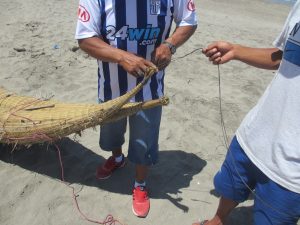 Talking to the man repairing the prow, they only last three months before becoming waterlogged. And their reedbeds are under threat. One son follows his father the other is a chef.
Seagulls cluster round the women cleaning fish. A lone pelican waddles by. Hadn't appreciated how big they are.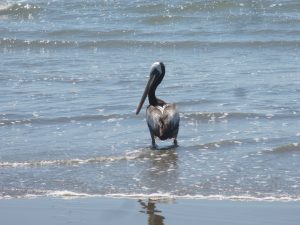 Another surprise was to see a burrowing owl that had established itself in the middle of the pyramid site.
After the "guided tour"- solitary anglophone in party of 15 makes you feel like a burden- to three sites ends up hustled and bustled, it is a pleasure to go on my own to Lambayeque in a combi. Museu Bruning is outstanding in presentation and content.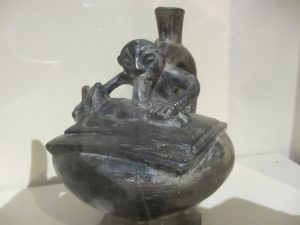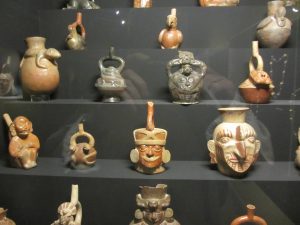 Most of the original artifacts from the unplundered tomb are here along with the bodies.
The gold jewellery is exquisite, delicate and elegant, even more so when you consider the early dates.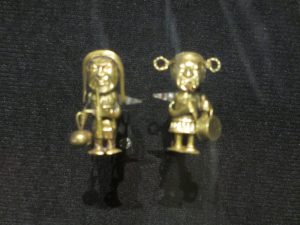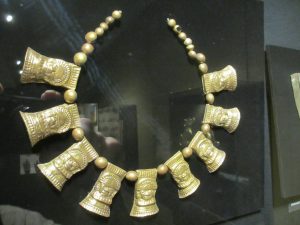 An observation: long straight black hair is practically de rigueur. Minimum is over the shoulders. Explains why there's so many hairdressers. Reminiscent of Turkey thought that tends more towards barbers.
Financial tip: How to draw cash using a credit card without paying interest:
1) Have a card that doesn't charge for foreign use such as Nationwide, Saga Premium or Santander Zero
2) Have no outstanding payments due on it
3) Credit money to the account using a debit card. Santander limit amount in to £100 per transaction for some reason but total can be over £100
4) Once money shows up on card account, withdraw cash using card from ATM. Make sure ATM provider will not charge for giving you money! Warning will appear giving option to abort.
Amount of withdrawal needs to be tailored to credit obviously.
Is it worth it? Well, in a country where cash is normal, yes.
Tour operator had recommended coach company for Trujillo that turns out to be really comfortable. Almost sorry it is less than four hours.
I do get to watch"Dunkirk" albeit it in Spanish. I'm surprised by the lack of soggy in it, though the incessant time switching becomes irritating. Maybe it was a tech glitch from Netflix. It seemed to just stop – again Netflix? Some of the films on the coaches have been wall to wall violence- a lot of Jason Statham and Samuel Jackson! Plenty of children on board as well.
The Pan American has been much better on this stretch, four lane and even six occasionally. Doesn't stop buses sitting in the fast lane. Quite a lot of undertaking- in both senses probably! Haha, bad joke. On reflection haven't seen any crashes.
From here on it's all planes or trains.
So now Trujillo, capital of Marinera and colonial faded splendour.