Fine farewell breakfast at Three Corners and an easy tram ride to the other big Budapest station, Déli. They have set the bar high for the other places where I shall be staying. Eventually find decent modern carriages and we leave on the dot. Hope the rest of the journey will stay so. Quite crowded till we get to Vesprem and after that compartment to myself. Guard is another little Hitler like the one on SNCF. Tells me I have to fill in the details for returning the card to interrail once it has been used. Nothing to do with him but obviously likes to throw not inconsiderable bulk around.
Hungary is flat, dark rich soil, but a lot of ruined farm buildings. It takes quite a long time to pass Lake Balaton- how big?. GPS not working on tablet so harder to check. No WiFi on train of course.
It's not clear when we cross the border, but there is a definite change of scenery, hills and trees, and the houses all look tidier, and the cars seem to be newer, and cleaner. Running between hills besides rushing largish river, sunshine still just above the rest.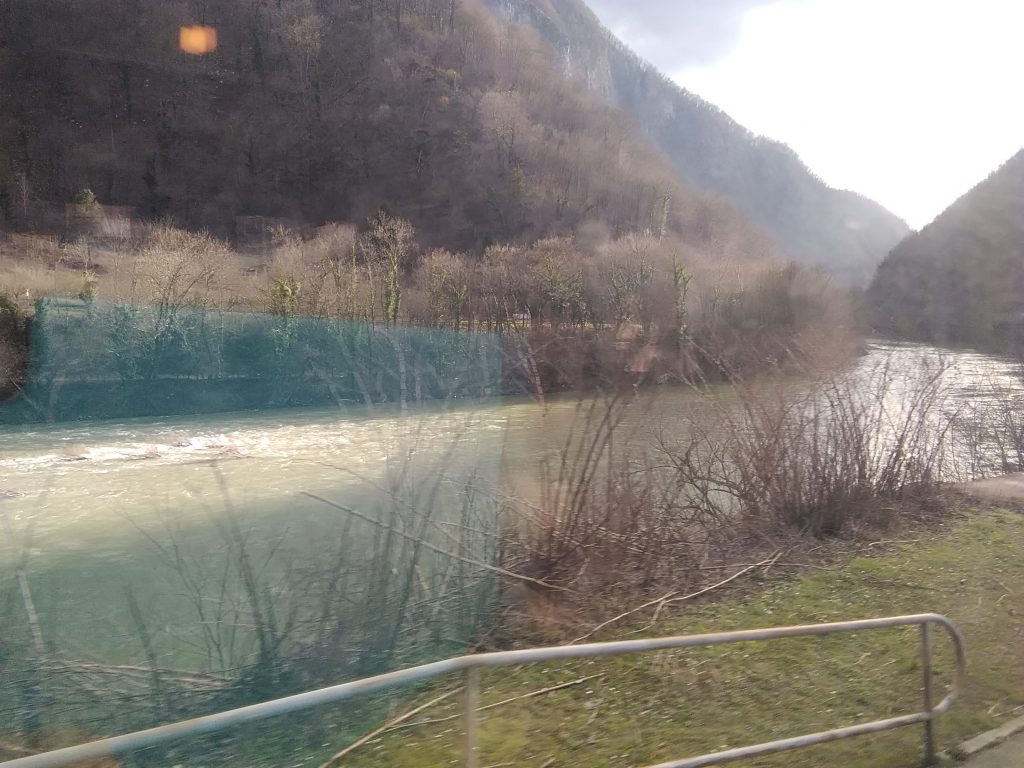 Arrive a minute late which is amazing after nearly 8 hours. Hotel 5 minutes walk from the station. It is an old coaching station so has character–sloping ceiling, floors that dip and a sunny courtyard. More than happy to dump my stuff and go for a walk to get air and stretch my legs. Sinks in that it is Saturday night and crowded with weekend types. So when I go out to eat I have a list of three possibilities just in case. First one
is fine-Sarajevo 84 is Bosnian(read Muslim) packed but girl finds me a table at the back. And even takes time to explain menu. Beefy soup (corba) with loads of veg and chunks followed by more pide – like bread stuffed with kebabs, onion and pepper sauce. If this was a small portion, large!? Realise it is a relief to be using euros, feels normal no constant struggling with 380:1.
A good start to Ljubljana stay.