An early morning to get the 8 o'clock train to Margao suffers a hiccup when reception has forgotten to do my breakfast box. They end up chasing me down the road with it as I go to find the taxi- Black spot no. 1.
Train to Margao on time and ditto the express to Karmali. A 40/- tuktuk into town finds me in a wide open elegant space with the red laterite Bom Jesus basilica on my left and the stark white Cathedral on my right.
The Basilica had its lime render removed by an officious restorer in 1950s so the soft red stone is continually eroded by the monsoon rains. It sits heavy and brooding.
Inside is cool but light. Interestingly the visitors are largely Indian. I go to read the info and map I printed out and realise I have dropped them somewhere recently. I had read them waiting for the train so fairly fresh but – black spot no. 2.
There is a huge pulpit halfway along that has remarkable sculpted figures around the base.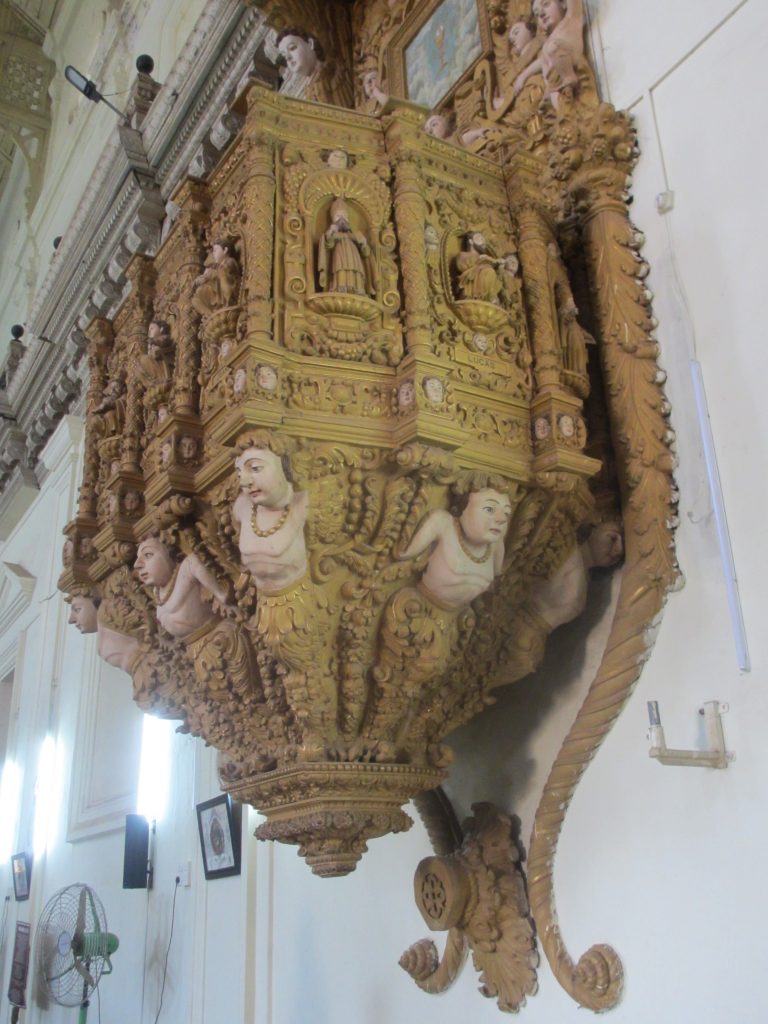 You don't quite expect mermaids at the bishop's feet. What is absent is any sort of genuflection by the crowds in front of the mummified remains of St Francis Xavier.
The nearbydeconsecrated Church of St Francis is a low key study in wood with glorious painted panels on the ceiling.
It's hot even out of the sun and my hands are damp, the camera slips and hits the stone floor with lens on zoom. "lens error camera will restart" but it doesn't. It's jammed and no longer usable. Black spot no. 3 and the worst. At a pinch there is the tablet camera but it is ungainly and nowhere near as good.
A tall tower on a nearby hill beckons – shades of Fountains Abbey. It was a huge augustinian establishment that flourished for centuries till the Portuguese expelled then in 1832. Thereafter it rapidly fell into disrepair and ruin, leaving only the huge tower standing.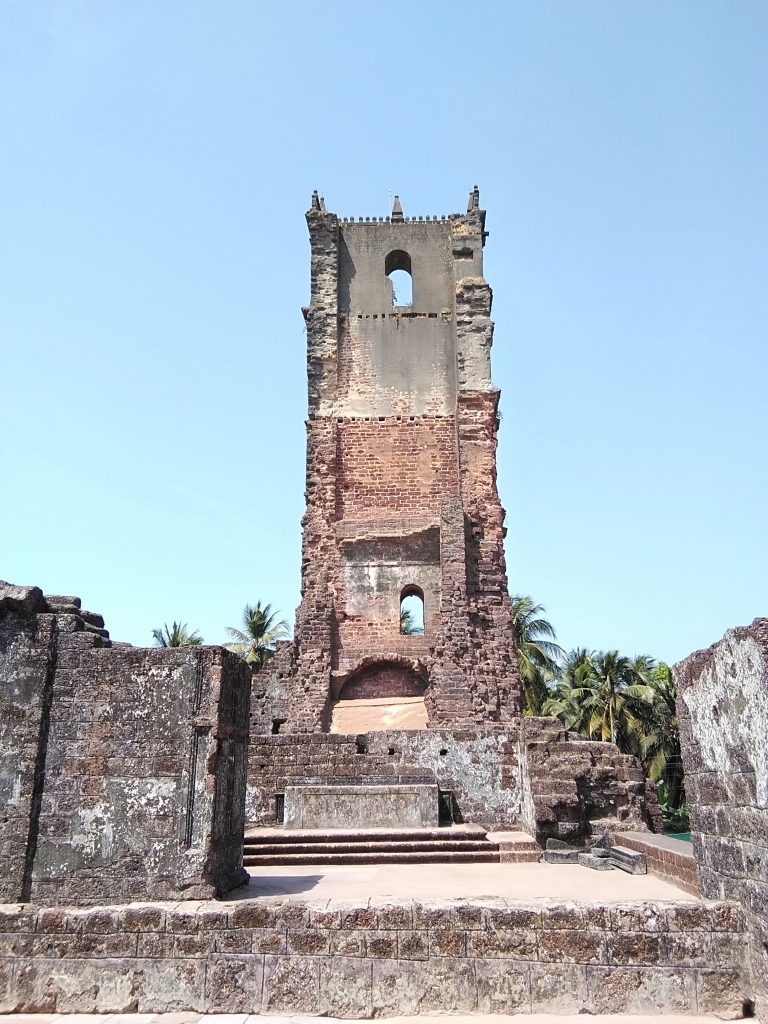 You have a sense of how it might have looked originally when you consider the panels of rich coloured azulejos.
Now all is forlorn and abandoned. Treading carefully over the loose rubble I spot a piece of Pottery that is the turned over rim of a small pot. As I pick it up I can see something nearby that appears to be glazed. Under the dust I can see 17th century blue on white brushwork on a tin glaze. It is a part of a small plate and has a finely turned foot. The monks obviously lived well.
A bus whisks me along the river to Panjim and the GPS on the tablet guides me to the guesthouse. It is simple fare, homely but welcoming and the run has an old hasp and bolt with a padlock, similar to the old colonial houses in Ecuador.
Having checked in I then foray out into town to buy a new camera. The first stop is not where the hotel keeper has described it and anyway they don't have any decent compacts in stocks, just a tacky coolpix. The next does have a good new Canon and eventually we agree a price. He uses it to take a pic of us on it. His card reader doesn't work and he won't go next door so that is that. Not sure what the eventual purchaser will make of the pic. I find a third shop. Yes they have an ixus 190 but it is at their other shop! Which is where I was so their card reader won't work either. A fourth shop has a catalogue which includes an ixus 190 but it will take 15 minutes. Remarkably it arrives in ten minutes, the card reader works and I have a new camera. Not a bad way to spend two hours.
There is a restaurant "Viva Panjim" 20yds round the corner which is fine on trip advisor so that is easy. It's busy, a few Indian diners, mostly Europeans. The food is good though I have failed to account for goan cuisine being notoriously heavy on hot.
So ends day one of foray north.