I manage to find an agreeable tuktuk driver who is not surly and who will take me there and wait to bring me back. On a hilltop outside the current city, it would have dominated the area and been virtually impregnable.
There were diamonds mines here a long time ago and apparently the word itself has its own meaning in the diamond industry for quality.
. . . A clever piece of acoustical design creates a huge echo inside the gatehouse that would travel a mile away to an outcrop lookout post. Everyone visiting seemed determined to try it out.
It quickly becomes apparent that the usual rules apply, ie all the most interesting bits are padlocked and barred, in this case the Masjid and the main durbar Hall.
The site as a whole has been stripped bare down to its bare bones. Signage is almost non-existent and any hope of a reconstruction virtually nil. Tour guides are everywhere but their English is bad and they are barely comprehensible. Four Koreans give up after about three minutes. None of them wears any kind of badge or tourist board approval. And £12 an hour is pretty steep.
There is no attempt at a reconstruction or renovation, it's all bare rocks straggly steps and piles of building rubble. Hindi syndrome again?
The best bits are bolted and padlocked – the Masjid, the Durbar Hall right at the top of the site. The view from here was worth the climb in the full blaze of the day.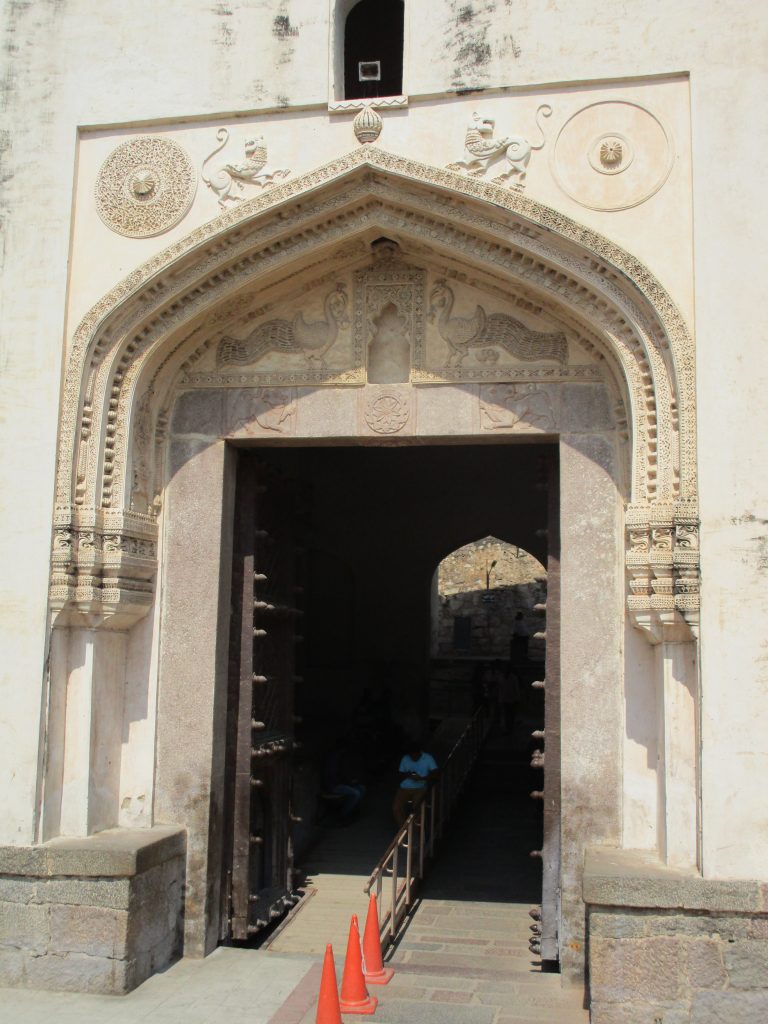 Close up the gardens are not so alluring. They lack one all pervasive feature, the water.
A store room was converted to an enormous single cell to incarcerate a disgraced Court official. He was there so long he had time to create these carvings.
Overall a fascinating site whose potential remains unexploited. Tuktuk driver turns up on the dot and we head back.
The evening brings a return to Paradise, though this time soft Chinese noodles chicken and vegetables. Soothing in the style of Tye Pye Pong.
Alarm is set for 4.55 to go in a taxi at 5.15 to the airport, 35km out of town