At breakfast you can feel the tension amongst the players as the moment rapidly approaches when the whole tour becomes solid reality. Perhaps not all, one of us has been on over 90 tours of one sort or another. All aboard the coach for a short drive to the ground. The ground is not the Police Academy but the municipal maidan. Eight pitches all in a row. Stones and paving slabs on the outfield. A 3″ ridge dropping down from the square. One boundary almost twice the other. A bivouac sheeting facility with a few chairs and tables, no toilet and the average age of the opposition is 35. Tour leader starts to erupt and petrol thrown on the flames by the guide claiming"they wanted to show us how ordinary Indians get to play cricket "
Today's captain Glyn elects to field and after a brisk start they are whittled away pretty much by some good fielding excellent catching and a very laid back approach to scoring. Unless the single can be taken leisurely it is declined in preference to taking a four. I bowl the opener through the gate in my first over and thereafter am treated with unmerited respect! Two good catches at deep mid off and a crazed charge down the track for a stumping leave me with 4 for 32. This is a relief as I am virtually an unknown quantity to the others and most of them are 50s rather than 60s or 70s. Thorny takes three Wickets, so Room 205 bags 7 in all. "Take the pace off, they don't like it. " A total of 143 in 35 is eminently gettable.
We reach 61 for 1, partly thanks to a generous two overs from their captain which produces 27, mostly wides. You could say it was our age handicap. All seems well.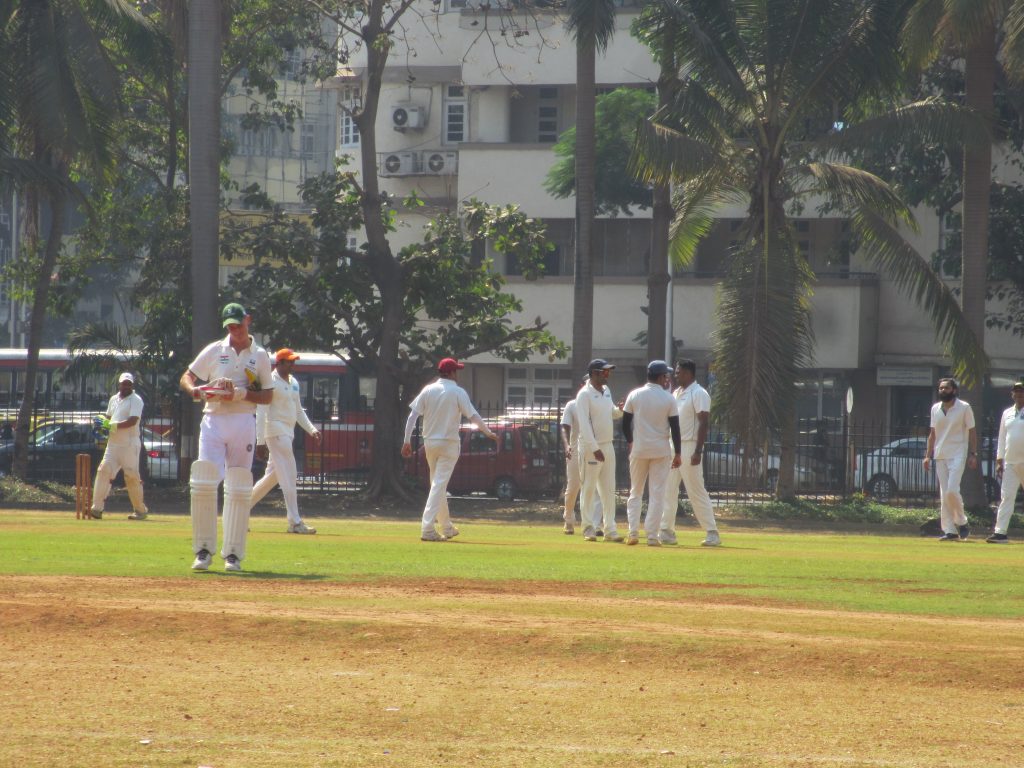 Then the LBWs start. Wickets fall regularly and I find myself unexpectedly padding up. My 12 includes two boundaries and is extended when they overrule the umpire who has given me lbw after an inside edge goes unnoticed by him. He is quite unabashed. I run myself out taking a quick single to Point. Too used to Seniors' type fielding! We end up 6 runs short which is almost like a losing draw.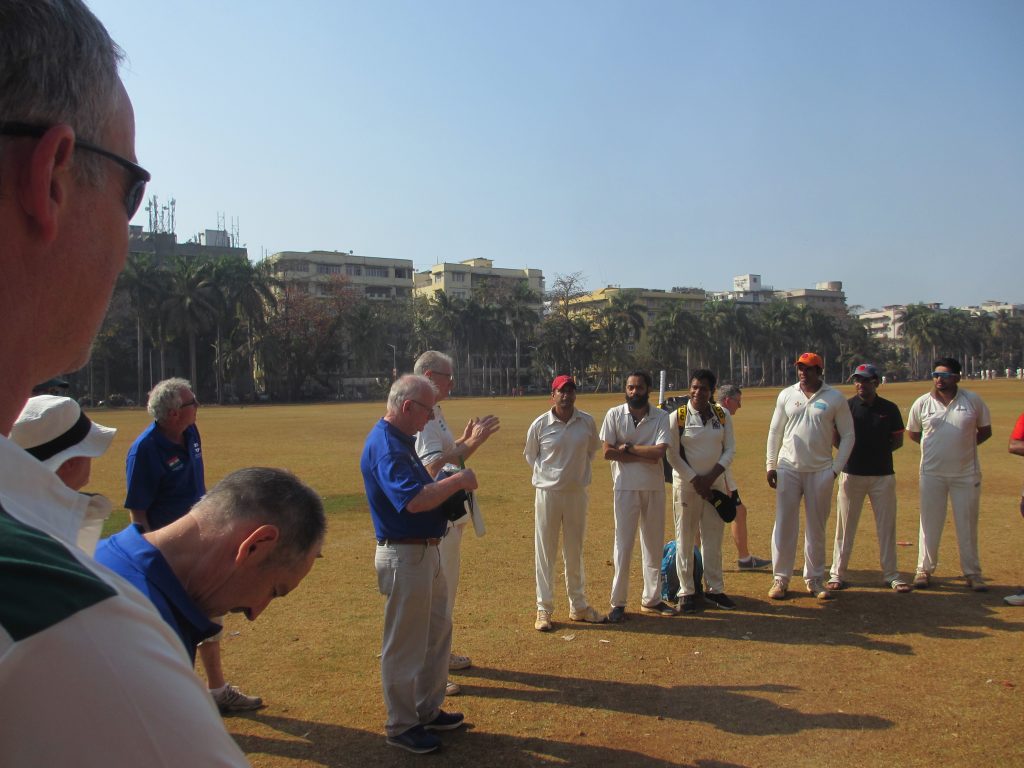 The apres-cricket was brief given the absence of a bar though a fully–signed bat was handed to their captain along with a cap.
Dinner is alcohol-free in Delhi Darbar but totally delicious and ridiculously cheap – 600/- each and its not all eaten. Too much biriani. And John said he was hungry. Even Keith was impressed and he's a scorer.
On the walk back manage to locate Theobroma for a piece of rich chocolate patisserie. Delicious though eating it on the way back to the hotel creates problems with small prying eyes following you hand outstretched. You have to remind yourself of the reasons for not giving anything.