Today has been awesome. Sorry for the cliche but it just has been.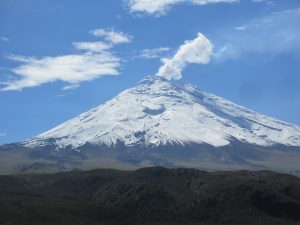 The forecast was rain most of the day. They could get a job in Exeter! It was bright sunshine as you can see all morning. Four Canadians, one yank and me. Average age 30 not including me. One of the Canadians turned out to be from Iran so we had lots to talk about. It's a big jump from 4200 to 4800m as I found out. However much you breath there's not enough to keep your legs going. The first twenty minutes were very hard. Even chewing on coca leaves didn't seem to help. Guide was encouraging and admitted hard even for him coming from Quito. An unappetising truth is that it was the Canadian girl trailing behind that in part pushed me up rather than down. Pathetic really worrying about losing face at my age. We all made it to the top eventually.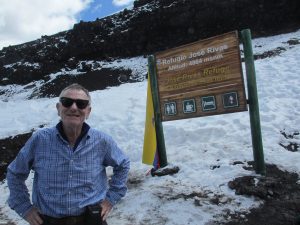 The view out over the countryside made you feel small. No sign of habitation, no power lines no roads.
The guide had never noticed the face in the rock before. An Inca carving?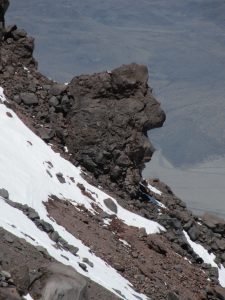 Walking back down was comparatively painless marred only by the sole coming off one boot and throwing me head over heels for five metres. Bootlace adapted to hold it on worked really well. And the next stage being a cycle ride took the pressure off. I think it was the longest freewheel in my life and pretty fast considering it was a rutted dirt track. By the time we reached the lake it was as if the air was full of oxygen.
A really good lunch at the same little restaurant where we had breakfast included passion fruit juice and cheese and potato soup which was by then very welcome. On the ride back into Quito I turned round to see all the others fast asleep. Mind you I felt pretty whacked as well. But it was worth every aching muscle and tortured lung.
Tomorrow will be five days in the jungle so there could be a gap.